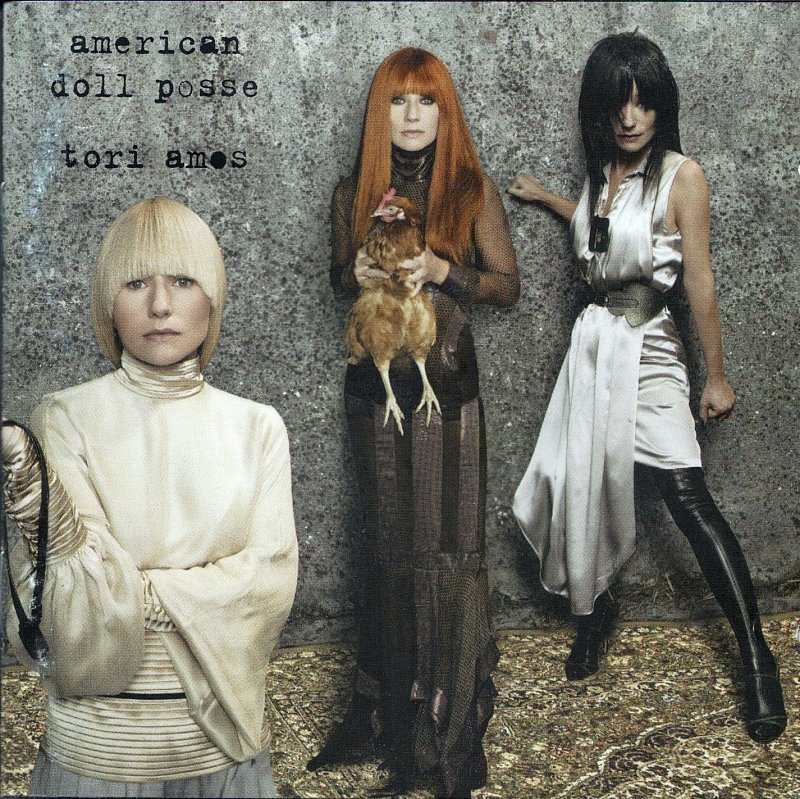 Year Released:
2007

---

Countries:
Argentina, Australia, Canada, European Union, Japan, Mexico, Russia, South Africa, Ukraine, United States

---

Formats:
CD, 180g Double 12" Vinyl, CD/DVD

---

Label:
Epic

---

Producer:
Tori Amos

---
Release Dates:
| | |
| --- | --- |
| European Union: | April 30 2007 |
| United States: | May 1 2007 |
Description:
Tori's third and final studio album with Epic was a sharp departure from its predecessor sonically. Described by some critics as "glam rock", the songs feature heavier guitars and drums than her previous albums. In the album concept, Tori chooses to embody 5 different female characters to express various archetypes in Greek mythology through a modern lens.
The Limited Edition of this album featured an extra bonus track on the DVD called "My Posse Can Do". Additionally, it came with 5 trading cards with the chance to collect 3 different sets in all. An expanded full color 36-page booklet was also included.
It is interesting to note that with the inclusion of the 5th trading card in the Limited Edition, this album was disqualified from entering the UK Charts. As was described on the now obsolete official Tori website
EverythingTori
:
"According to the UK Chart Regulations, the limited edition special package of American Doll Posse has been disqualified from the UK Charts. Apparently offering the fans 5 postcards is considered too much of a gift, and sales of the CD are ineligible. Tori made the decision not to compromise the packaging so the UK fans would receive the same presentation as the rest of the world."
The UK version of the Limited Edition Scarlet's Walk was missing the bonus charm (available in the US Limited Edition) for this very reason. Also interesting to note, there was no limited edition created for the UK; the US version was distributed in that country. There is, however, a UK version for the standard edition.
Perhaps more than any album to date, American Doll Posse has an impressive array of special editions containing bonus extras:
• Purchasing either the regular or Limited Edition of American Doll Posse on Itunes would give you access to the exclusive bonus track "Miracle".
• Borders also had a download-only bonus track called "Drive All Night" with the purchase of the standard edition (US only).
• The Limited Edition DVD contained an extra track not included on this (regular) edition, "My Posse Can Do".
• For a limited time, the standard edition purchased at Target included a folded up poster (enlarged version of the front artwork photo).
• Purchasing the album at certain independent music stores would grant you a free lithograph.
The doll singing on each song is delineated in the comments below.
Track Listing:
No:

Title:

Length:

Comments:

1.

Yo George

01:25

Isabel

---

2.

Big Wheel

03:18

Tori

---

3.

Bouncing Off Clouds

04:08

Clyde, with Santa on background vocals

---

4.

Teenage Hustling

04:00

Pip

---

5.

Digital Ghost

03:50

Tori, with Clyde on background vocals

---

6.

You Can Bring Your Dog

04:04

Santa

---

7.

Mr. Bad Man

03:18

Isabel

---

8.

Fat Slut

00:41

Pip

---

9.

Girl Disappearing

04:00

Clyde

---

10.

Secret Spell

04:04

Santa

---

11.

Devils And Gods

00:53

Isabel

---

12.

Body And Soul

03:56

Pip and Santa

---

13.

Father's Son

03:59

Tori

---

14.

Programmable Soda

01:25

Santa

---

15.

Code Red

05:57

Tori, with Pip on background vocals

---

16.

Roosterspur Bridge

03:38

Clyde

---

17.

Beauty Of Speed

04:08

Clyde

---

18.

Almost Rosey

05:23

Isabel

---

19.

Velvet Revolution

01:19

Pip

---

20.

Dark Side Of The Sun

04:19

Isabel, with Tori on background vocals

---

21.

Posse Bonus

01:45

Tori

---

22.

Smokey Joe

04:19

Pip

---

23.

Dragon

05:03

Santa

---
No:

Title:

Length:

Comments:

24.

Drive all Night

04:34

Santa, with Isabel on background vocals
No:

Title:

Length:

Comments:

24.

Miracle

04:34

Cyde and Tori
No:

Title:

Length:

Comments:

1.

My Posse Can Do

03:37

Santa

---

2.

Behind the Scenes: ADP Photo Shoot (Video)

05:21

---
Photo
Country
Year
Title
Format
Catalog
Label
Tracks
Photo
Country
Year
Title
Format
Catalog
Label
Tracks
Argentina
2007
American Doll Posse

CD
8287 686140 2
Epic
23
Australia
2007
American Doll Posse

CD
82876 861402
Epic
23
Canada
2007
American Doll Posse

CD
82876 86140 2
Epic
23

1

European Union
2007
American Doll Posse

CD
82876861402
Epic
23

1

Japan
2007
American Doll Posse

CD
EICP 809
Epic
23
Mexico
2007
American Doll Posse

CD
8287686140 20
Epic
23
Russia
2007
American Doll Posse

CD
88697 11152 2
Sony BMG Music Entertainment, Epic
23
South Africa
2007
American Doll Posse

CD
6 007124 501233
Epic, Sony Music BMG
23
Ukraine
2007
American Doll Posse

CD
88697 11152 2
Sony BMG Music Entertainment, Epic
23
United States
2007
American Doll Posse

180g Double 12" Vinyl
82876 86140 1
Epic
23

2

United States
2007
American Doll Posse

CD
82876 86140 2
Epic
24

2

United States
2007
American Doll Posse


Limited Edition

CD/DVD
88697 08725 2
Epic
25