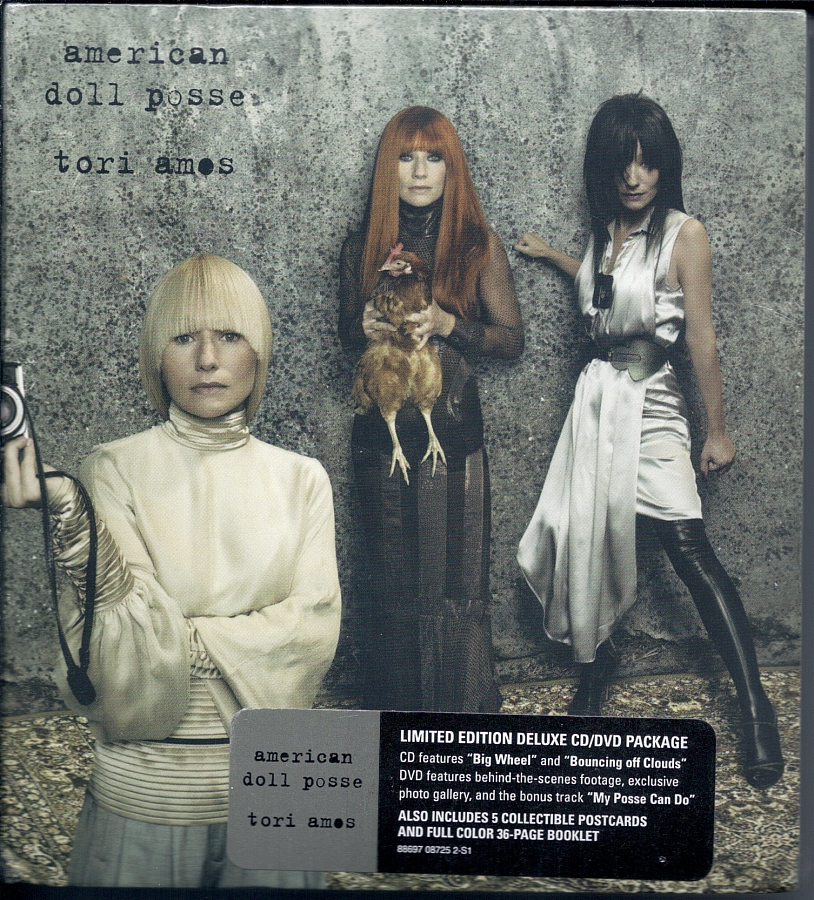 Details:
Country:
United States

---

Format:
CD/DVD

---

Catalog:
88697 08725 2

---

Barcode:
8 86970 87252 2

---

Label:
Epic

---

Released:
May 1, 2007

---

Case:
Digipak

---

Packaging:
Limited Edition

---

Era:
American Doll Posse Era

---

Category:
Albums

---

Subcategory:
Studio Albums

---
19 people have this

amber
ErinJoy
EWF625
Honey
kristal
Lori_
Parrish
RabbitwithFangs
Sakre
Valerie
Webmaster
8 private
◦

Variation 1

- Trading Cards Set "B"
↑ Top
Description:
Trading Cards Set "B". Catalog K708725l1 b 1-5


13 people have this

Douce
EWF625
Honey
kristal
MrProgrammable
RabbitwithFangs
Sakre
That1971Girl
Valerie
4 private
◦

Variation 2

- Trading Cards Set "C"
↑ Top
Description:
Trading Cards set "C". Catalog K708725l1 c 1-5


---
Main Description:
CollectNotes
: Click For More Facts About This Item
Limited Edition
Limited edition releases are items that are usually released for a relatively short period of time and contain material not available on the standard release. In the past, singles were frequently released as a two CD set with one being a limited edition release. More recently, it has become common to have a regular and limited edition version of an album. Limited edition print and displays also are produced.
Digipak
Digipaks typically consist of a gatefold (book-style) paperboard or card stock outer binding, with one or more plastic trays capable of holding a CD or DVD attached to the inside.
US Limited Edition release. No Limited Edition version was produced for the European Union, so the US Limited Edition was distributed there instead.
Tori's third and final album with Epic had quite a few different special editions for those in the US containing bonus extras.
• Purchasing the album at certain independent music stores would grant you a free lithograph.
American Doll Posse Lithograph
US • Promo Display
The Limited Edition also came with 5 trading cards, with the chance to collect 3 different sets (see variations). A full color 36-page booklet was also included, as opposed to the 16-page standard version.
Each trading card possesses a unique catalog number on the back which represents both the set the card belongs to and the doll pictured. All of them posses the matrix "K708725I1", and the letter following (a - c) delineates which set it belongs to. The number following that (1 - 5) delineates which doll is pictured. The following number corresponds to each doll as follows:
1 = Tori
2 = Pip
3 = Santa
4 = Isabel
5 = Clyde
Note that there have been copies of this item with counterfeit gold stamps marking them as promotional copies. The item itself is real, however the stamp is not legitimate. Check
our dedicated page
about this for more information on these items.
Track Listing:
No:

Title:

Length:

1.

Yo George

01:25

---

2.

Big Wheel

03:18

---

3.

Bouncing Off Clouds

04:08

---

4.

Teenage Hustling

04:00

---

5.

Digital Ghost

03:50

---

6.

You Can Bring Your Dog

04:04

---

7.

Mr. Bad Man

03:18

---

8.

Fat Slut

00:41

---

9.

Girl Disappearing

04:00

---

10.

Secret Spell

04:04

---

11.

Devils And Gods

00:53

---

12.

Body And Soul

03:56

---

13.

Father's Son

03:59

---

14.

Programmable Soda

01:25

---

15.

Code Red

05:57

---

16.

Roosterspur Bridge

03:38

---

17.

Beauty Of Speed

04:08

---

18.

Almost Rosey

05:23

---

19.

Velvet Revolution

01:19

---

20.

Dark Side Of The Sun

04:19

---

21.

Posse Bonus

01:45

---

22.

Smokey Joe

04:19

---

23.

Dragon

05:03

---
No:

Title:

Length:

1.

My Posse Can Do

03:37

---

2.

Behind the Scenes: ADP Photo Shoot (Video)

05:21

---