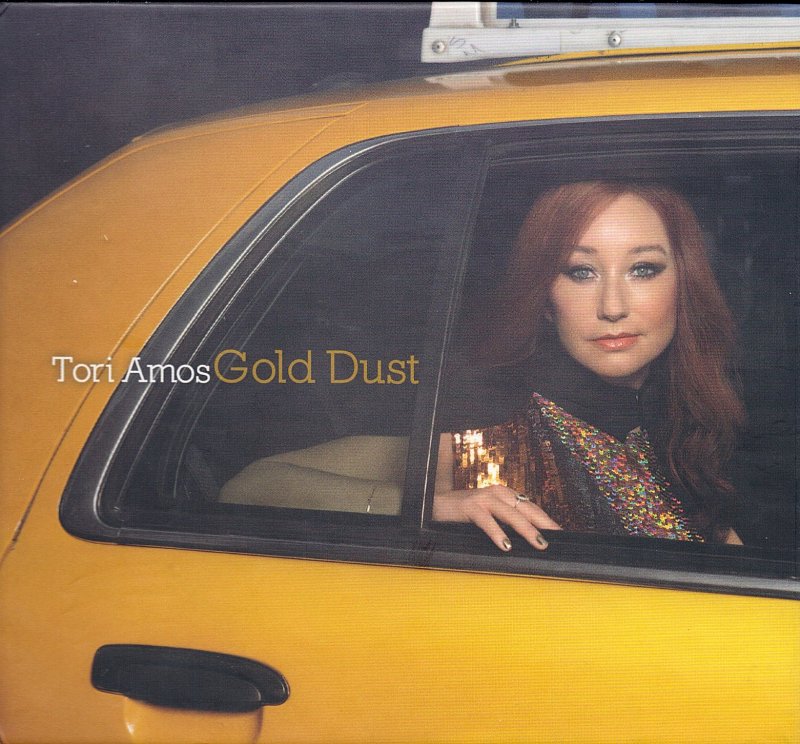 Year Released:
2012

---

Countries:
Argentina, Australia, Canada, China, European Union, Indonesia, Japan, Korea, Poland, Russia, South East Asia, Taiwan, United States

---

Formats:
CD, CD/DVD

---

Label:
Deutsche Grammophon
Mercury Classics

---

Producer:
Tori Amos

---
Release Dates:
| | |
| --- | --- |
| European Union: | October 1 2012 |
| United States: | October 2 2012 |
Description:
This album is collection of songs from previous albums that were reworked by Tori (and longtime string arranger John Philip Shenale) to be played by a full orchestra. Originally Tori played with the Metropole Orchestra in Amsterdam on October 8, 2010, which spurred the decision to enter the studio together and record many of the same songs from the concert, plus a few changes and additions.
The deluxe version of "Gold Dust" was presented in a 32-page digibook which also included bonus DVD. The DVD featured a music video for "Flavor", a performance clip for "Gold Dust", and behind the scenes footage about the record.
The Itunes deluxe edition included a bonus track, "Maybe California", and the Amazon deluxe edition included the bonus track "Snow Angel".
The original date and album recording for each song are listed in the comments below.
In the US, a limited-edition signed poster was sold with purchase of the album (possibly available for both standard and deluxe).

Gold Dust Poster (Limited Edition)

Merch
Track Listing:
No:

Title:

Length:

Comments:

1.

Flavor

04:08

Abnormally Attracted to Sin; 2009

---

2.

Yes, Anastasia

04:17

Under the Pink; 1994

---

3.

Jackie's Strength

04:32

From the Choirgirl Hotel; 1998

---

4.

Cloud On My Tongue

04:23

Under the Pink; 1994

---

5.

Precious Things

04:44

Little Earthquakes; 1992

---

6.

Gold Dust

05:45

Scarlet's Walk; 2002

---

7.

Star Of Wonder

03:46

Midwinter Graces; 2009

---

8.

Winter

05:45

Little Earthquakes; 1992

---

9.

Flying Dutchman

06:21

China single; 1992

---

10.

Programmable Soda

01:27

American Doll Posse; 2007

---

11.

Snow Cherries From France

03:01

Tales of a Librarian; 2003

---

12.

Marianne

04:08

Boys for Pele; 1996

---

13.

Silent All These Years

04:33

Little Earthquakes; 1992

---

14.

Girl Disappearing

04:06

American Doll Posse; 2007

---
No:

Title:

Length:

Comments:

15.

Maybe California

04:20

Abnormally Attracted to Sin; 2009
No:

Title:

Length:

Comments:

15.

Snow Angel

03:42

Midwinter Graces; 2009
No:

Title:

Length:

Comments:

1.

Flavor

04:06

Midwinter Graces; 2009

---

2.

Gold Dust

05:45

Scarlet's Walk; 2002

---

3.

Behind the scenes of Flavor

03:59

---

4.

Credits

01:34

---
Photo
Country
Year
Title
Format
Catalog
Label
Tracks
Photo
Country
Year
Title
Format
Catalog
Label
Tracks
Argentina
2012
Gold Dust

CD
4779427
Deutsche Grammophon, Mercury Classics
14
Australia
2012
Gold Dust

CD
477 9427
Deutsche Grammophon
14
Canada
2012
Gold Dust

CD
B001745302
Deutsche Grammophon, Mercury Classics
14
China
2012
Gold Dust

CD
CD12235 GE0951C
Deutsche Grammophon
14

2

European Union
2012
Gold Dust

CD
00289 477 9427
Deutsche Grammophon, Mercury Classics
14

2

European Union
2012
Gold Dust


Deluxe Edition

CD/DVD
00289 479 0551
Deutsche Grammophon, Mercury Classics
18
Indonesia
2012
Gold Dust

CD
477 942 7
Mercury Classics, Deutsche Grammophon
14
Japan
2012
Gold Dust

CD
UCCH 1035
Deutsche Grammophon, Mercury Classics
16
Korea
2012
Gold Dust

CD
DG40029/477 942 7
Deutsche Grammophon
14
Poland
2012
Gold Dust

CD
00289 479 0897
Mercury Classics, Deutsche Grammophon
14
Russia
2012
Gold Dust

CD
4 605026 711648
Deutsche Grammophon
14

1

South East Asia
2012
Gold Dust

CD
00289 477 9427
Mercury Classics, Deutsche Grammophon
14
Taiwan
2012
Gold Dust

CD
477 942 7
Deutsche Grammophon
14
Taiwan
2012
Gold Dust


Deluxe Edition

CD/DVD
479 055 1
Deutsche Grammophon
18
United States
2012
Gold Dust

CD
B0017453 02
Deutsche Grammophon, Mercury Classics
14
United States
2012
Gold Dust


Deluxe Edition

CD/DVD
B0017441 00
Deutsche Grammophon, Mercury Classics
18