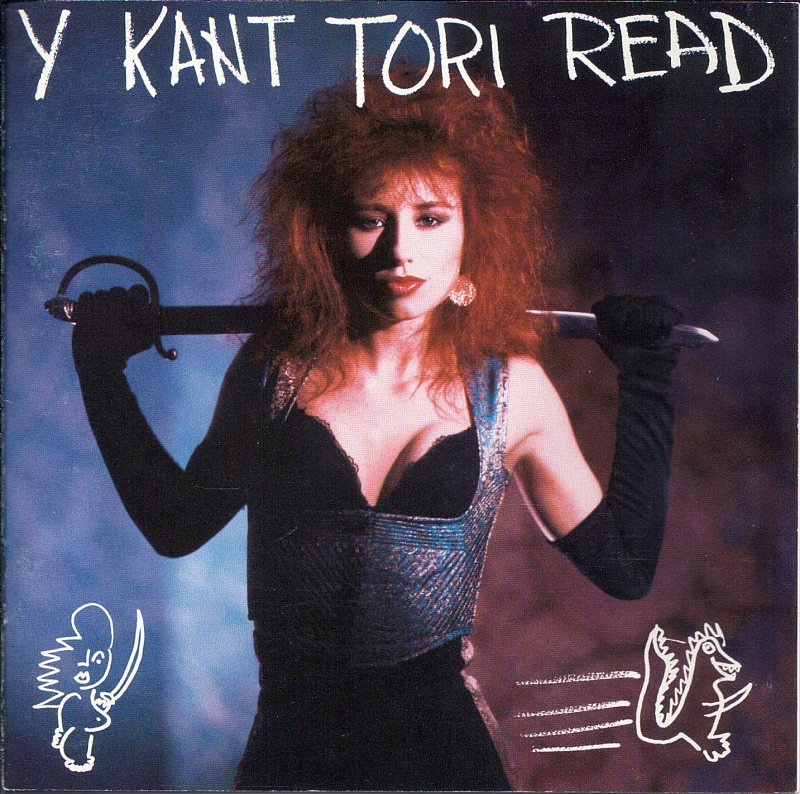 Year Released:
1988

---

Country:
United States

---

Formats:
12" Vinyl, Cassette, CD

---

Label:
Atlantic

---
Release Date:
Description:
Tori's first album with Atlantic was called "Y Kant Tori Read", recorded with a band of the same name. The band dissolved quickly after the album was met with poor sales. Due to limited circulation, the album and its associated promotional items are at the top tier of desirability and rarity for Tori collectors.
Interesting to note is that the commercially sold copies of this album are vastly rarer than the promotional copies, and therefore are more valuable. Many times the opposite is true.
Quite a few attempts have been made to
bootleg the CD
over the years. See the authentic releases documented below to weed out counterfeits.
Track Listing:
No:

Title:

Length:

1.

The Big Picture

04:19

---

2.

Cool On Your Island

04:57

---

3.

Fayth

04:23

---

4.

Fire On The Side

04:53

---

5.

Pirates

04:16

---

6.

Floating City

05:22

---

7.

Heart Attack at 23

05:16

---

8.

On The Boundary

04:38

---

9.

You Go To My Head

03:55

---

10.
Etienne Trilogy:


The Highlands




Etienne




Skyboat Song

06:45

---
| Photo | Country | Year | Title | Format | Catalog | Label | Tracks |
| --- | --- | --- | --- | --- | --- | --- | --- |
| Photo | Country | Year | Title | Format | Catalog | Label | Tracks |
| 1 | United States | 1988 | Y Kant Tori Read | 12" Vinyl | 81845 1 | Atlantic | 10 |
| | United States | 1988 | Y Kant Tori Read | Cassette | 81845 4 | Atlantic | 10 |
| 1 | United States | 1988 | Y Kant Tori Read | CD | 81845 2 | Atlantic | 10 |