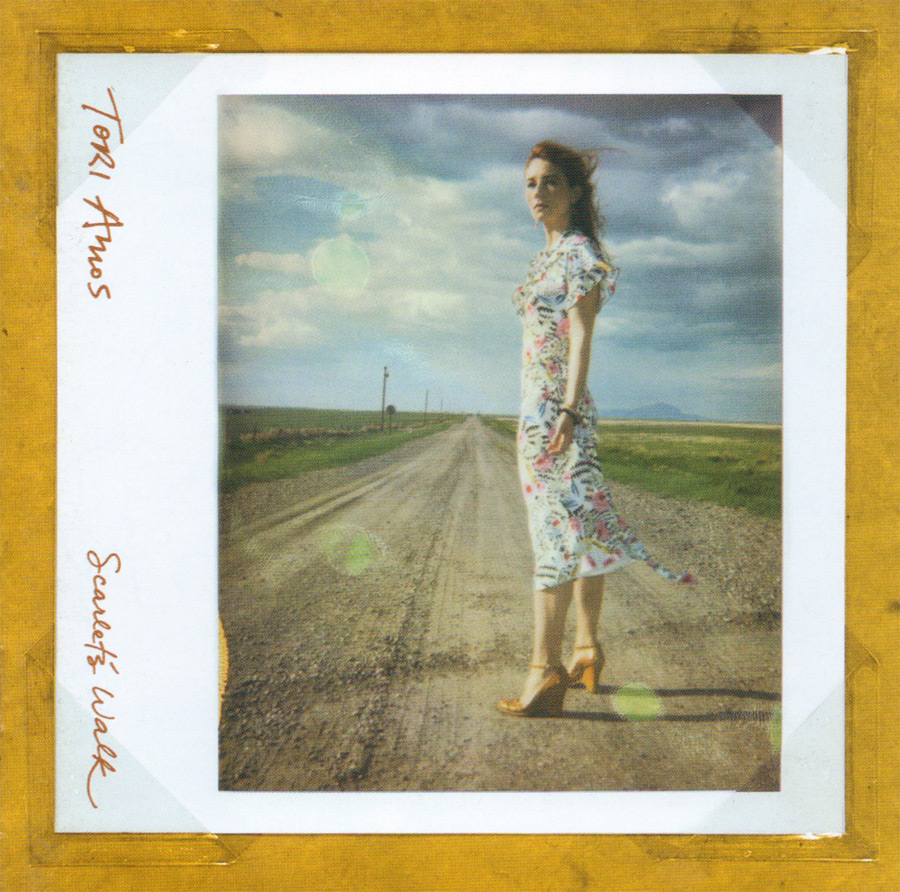 Year Released:
2002

---

Countries:
Argentina, Asia, Australia, Brazil, Canada, China, European Union, Indonesia, Japan, Malaysia, Mexico, Russia, South Africa, Taiwan, Thailand, United Kingdom, United States

---

Formats:
CD, Double CD, CD/DVD, Cassette

---

Label:
Epic

---

Producer:
Tori Amos

---
Release Dates:
| | |
| --- | --- |
| Australia: | October 28 2002 |
| Canada: | October 29 2002 |
| United Kingdom: | October 28 2002 |
| United States: | October 29 2002 |
Description:
Tori's seventh record is an 18-track concept album which centers around the character Scarlet, loosely based on Tori herself, who travels the United States in a post-9/11 world and chronicles her journey. Tori's seventh album was also her first with the Epic label. This album marks the first time she released both standard and limited edition packaging of her album CD format, and this tradition would be carried for most albums thereafter.
The limited edition of Scarlet's Walk was bundled with quite a few extras: a map following Scarlet's travels, a bonus DVD, stickers, pewter charm (US and EU only), and Polaroid postcards. The CD itself was also the key to enter "Scarlet's Web", an interactive site that contained special content such as photos, merchandise, ticket offers, and most notably unreleased B-sides. The beautiful limited edition packaging garnered Tori a Grammy nomination.
The UK limited edition did not contain a pewter charm as it was declared by the Official Charts Company in that country that it would have given the album an unfair advantage and therefore would have disqualified its eligibility to be in the charts. It's also had only 4 postcards as opposed to 12, and it's possible that it was missing stickers but this still requires confirmation. The EU Limited Edition contained the same amount of extras the US version had.
Track Listing:
No:

Title:

Length:

1.

Amber Waves

03:58

---

2.

A Sorta Fairytale

05:30

---

3.

Wednesday

02:29

---

4.

Strange

03:05

---

5.

Carbon

04:33

---

6.

Crazy

04:23

---

7.

Wampum Prayer

00:44

---

8.

Don't Make Me Come To Vegas

04:51

---

9.

Sweet Sangria

04:01

---

10.

Your Cloud

04:30

---

11.

Pancake

03:54

---

12.

I Can't See New York

07:14

---

13.

Mrs. Jesus

03:05

---

14.

Taxi Ride

04:00

---

15.

Another Girl's Paradise

03:34

---

16.

Scarlet's Walk

04:16

---

17.

Virginia

03:55

---

18.

Gold Dust

05:54

---
No:

Title:

Length:

1.

Gold Dust

05:44

---

2.

A Sorta Fairytale

03:59

---

3.

Taxi Ride (Polaroid Gallery)

04:00

---
Photo
Country
Year
Title
Format
Catalog
Label
Tracks
Photo
Country
Year
Title
Format
Catalog
Label
Tracks
Argentina
2002
Scarlet's Walk

CD
508782 2
Epic, Sony
18
Asia
Scarlet's Walk

CD
508782.2
Epic
18
Australia
2002
Scarlet's Walk

CD
5087822000
Epic, Sony
18
Australia
2008
Scarlet's Walk / The Beekeeper


Box Set

Double CD
88697365112
Sony BMG Music Entertainment
37
Brazil
2002
Scarlet's Walk

CD
2 508782
Epic, Sony Music
18

1

Canada
2002
Scarlet's Walk

CD
EK 86412
Epic
36
China
2002
Scarlet's Walk

CD
CD 1341 508782
Shanghai Audio Visual Press, Epic, Sony Music
18

1

European Union
2002
Scarlet's Walk


Limited Edition Box Set

CD/DVD
5087829
Epic
21
European Union
2008
Scarlet's Walk / The Beekeeper


Box Set

Double CD
88697365112
Sony BMG Music Entertainment
37
Indonesia
2002
Scarlet's Walk

Cassette
508782 4
Epic, Sony BMG Music
18
Japan
2002
Scarlet's Walk

CD
EICP 147
Epic
18
Malaysia
2002
Scarlet's Walk

Cassette
508782 4
Epic
18
Mexico
2002
Scarlet's Walk

CD
2 508782
Epic, Sony
18
Russia
2002
Scarlet's Walk

CD
EPC 508782 0
Epic
18
Russia
2010
Scarlet's Walk


Special Russian Version



CD
508782 0
Sony BMG Music Entertainment, Epic
18
South Africa
2002
Scarlet's Walk

CD
CDEPC 6556
Epic, RISA
18
Taiwan
2002
Scarlet's Walk

CD
508782.2
Epic
18

1

Taiwan
2002
Scarlet's Walk


Limited Edition Box Set

CD/DVD
EK86939
Epic
24
Thailand
2002
Scarlet's Walk

Cassette
508782.4
Epic, Sony Music Entertainment
18

3

United Kingdom
2002
Scarlet's Walk

CD
5087820
Epic
18
United Kingdom
2002
Scarlet's Walk


Limited Edition Box Set

CD/DVD
5087829
Epic
21

2

United States
2002
Scarlet's Walk

CD
EK86412
Epic
18
United States
2002
Scarlet's Walk


Limited Edition Box Set

CD/DVD
EK86939
Epic
21